Why recycle with us? We say you can't afford NOT to.
First of all, scrap metal is valuable. Earth's resources are limited and scrap is a coveted commodity. Not only is it good for the environment by reducing CO2 and saving energy, but it is also good for your bottom line for the exact same reasons.
Efficient recycling requires optimization of all relevant processes. Our long experience and expertise enables us to develop and implement a tailor-made plan for you. As a reliable and competent partner, we will help you save costs and ensure an easy process of implementing recycling.
Contact us and let's calculate what recycling can mean for your business and for the environment.
What do we buy?
All types of scrap and metals. This includes ferrous grades, such as iron and steel and non-ferrous grades and alloys such as aluminum, brass, copper, lead and stainless steel. We also buy materials such as cables, WEEE articles and alloyed residues.
Since quality is a key factor, all incoming material, particularly stainless and alloyed scrap, is subject to a careful treatment and processing, in order to optimize the quality according to the standards of our customers. Great care is taken to ensure all contamination and foreign inclusions in the scrap are removed, particularly radioactive materials. Therefore, all material leaving the terminal has been checked twice for radioactivity (once on entering and once on leaving the facility). In addition, it is checked during sorting by our personnel, measuring radioactivity manually and by radioactivity detectors on excavators.
We buy from a wide range of sources; scrap metal merchants, construction and demolition contractors, local trades and businesses, manufacturers, government bodies etc. We buy any amount, from contracts of thousands of tonnes to small individual deliveries.
Although prices fluctuate according to the worldwide markets, we guarantee you that RIMECO is always highly competitive on prices, compared to other recyclers.
For more information and up-to-date scrap metal prices, call or email today.
RIMECO A/S is ISO certified and a member of various international associations in recycling.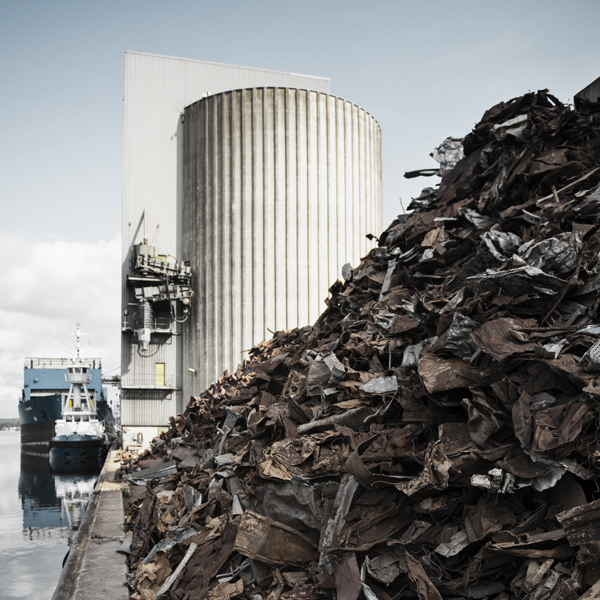 We handle around 500.000 tonnes of ferrous scrap every year.
And we would love to handle yours!
RIMECO collects and purchases all major grades of ferrous scrap, like iron and steel, which conform to the standards of E1, E2, E3, E4, E5, E6, E8 according to Eurofer specifications.
Read more about our qualities in: Specification Steel Scrap
We collect ferrous scrap from a variety of sources, including scrap merchants, construction and demolition contractors, local trades and businesses, manufacturers, government bodies and service providers.
We handle supplies from one-off deliveries of a few tonnes, to contracts of thousands of tonnes, helping you meet your recycling targets, while maximising your profits. We have access to mobile shears and heavy lift capabilities available on request.
RIMECO buys non-ferrous product, like aluminum grades, copper related products, lead and lead alloys, nickel and nickel alloys.
Read more about our qualities in: Specification Non-Ferrous
Reliable and fair full range service
RIMECO has long-standing relationships with many demolition contractors and we offer a wide range of comprehensive dismantling and recycling solutions according to international standards – at highly competitive prices, of course, so you can maximise your profit on the demolition job.
Because we know the problems that demolition contractors face, we are flexible and solution oriented. You will be given one point of contact, who will work with you around logistics, payment and prices. We can station containers at your site and service them as frequently as you require until the job is done. What's more, we have access to equipment that handles any size of scrap from demolition clearance.
Our weighbridges are monitored by our Recysystem, ensuring you an accurate and good service. Certificates of Destruction and photo/video evidence can also be provided, if required.
New and used steel products
We are open to business in all kinds of steel products – long or flat, new or used, prime or second choice, such as:
Hot rolled plates
HR/CR/Galv/PPGI coils
Casing and drill pipes
Beams
Round bars
Coilends
Stainless
This list is not exhaustive. Please have a look at our weekly stocklist of both new and used steel products.
At RIMECO nothing goes to waste.
Just because something is a little rough around the edges doesn't mean we can't turn it into value. In addition to your normal scrap arisings, you can contact us about your slow moving or redundant parcels. We will also consider damaged or out of tolerance material.
Call us today for a quick and reliable quote.
Secure destruction of any cable
At RIMECO, we take pride in guaranteeing you an exceptional service and secure destruction at highly competitive rates.
There is no type of cable RIMECO cannot handle. Our experienced team weighs and samples the cable, determining the precise metallic content (within 0.10%) for each load, along with the grade.
Loads can be delivered to our facility in Aabenraa, DK. Our computerised weighbridges are monitored by our RecySysted. And should you require it, Certificates of Destruction and photo/video evidence can be provided.
Our facility has the ISO 14001 accreditation for environmental management and ISO 9001 accreditation for quality management.
Waste Electronic and Electrical Equipment (WEEE)
Specialist processing is required to safely remove specified substances from electrical equipment and recover more materials for recycling.
At RIMECO, we do just that. We have the right equipment and the right staff to operate environmentally responsible in compliance with the law.
Customized solutions for the win
As a major economic stakeholder in the market for the recycling of industrial waste, RIMECO is committed to the concept of circular economics.
We focus on research and customized solutions for the detailed extraction of non-ferrous metals from "earths" (fraction from 0 to 15mm) coming from shredding residues. The numerous tests performed have allowed us to recover up to 10% of the metals in this fraction.